WORK AT MICROSOFT

Intern Work
2018 March - 2018 July
#UserExperience #UserInterface #Research




INTRO

Selected UX work for Bing News Vertical during my internship. I mainly participated in two products and four projects, which are -

01 Microsoft Edge Research
02 Bing Design Human Interface Guidelines Update
03 Bing News Design Sprint
04 Unifying Experience Design for New Feature - Follow
↳ Bing News Design Sprint


Bing News vertical is a vertical search engine and an aggregator specifically for news articles. The one week design sprint for Bing News vertical is to help spark innovation, encourage user-centered thinking and align team under a shared vision through design, prototyping and testing ideas with users.



Goals
01 Answer current questions for News vertical.
02 Have a holistic understanding on current trends and challenges of Online Journalism.
03 Eplore the future of news, design for the future of news.


Contribution & The Challenge
Refreshed our For You page so that users could engage more and enjoy more, even form a habit and come back to For You frequently.

For You page is the default page when users enter Bing news. Our current For You page only provide users with personalized content, which is based on their interests and behaviors.






︎ The Current For You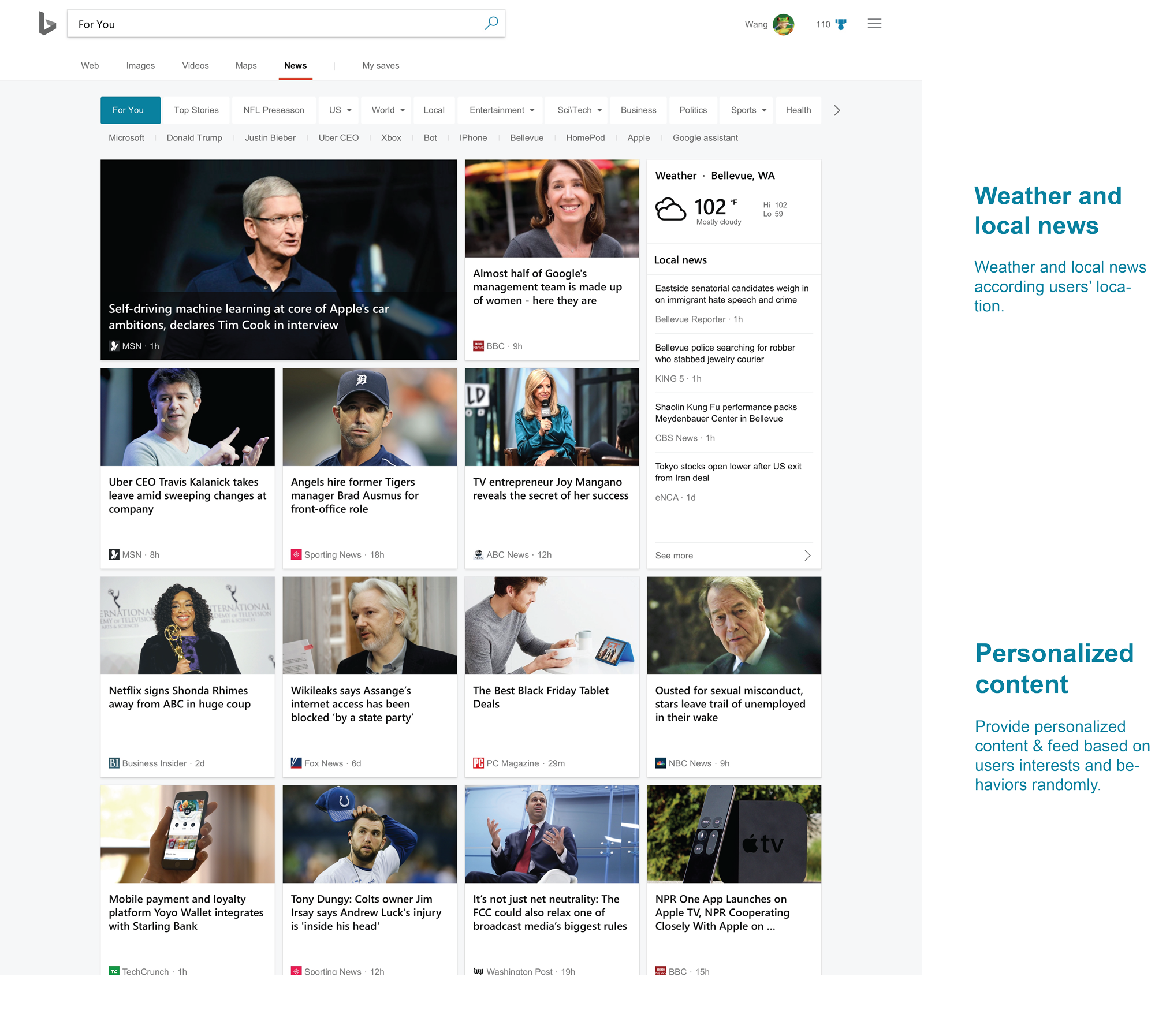 ︎ The Redesigned For You

"It is amazing that the amount of news that happens in the world everyday always just exactly fits the newspaper."

The words said by Jerry Seinfeld doesn't fit anymore for today. The online journalism has now been in existence for a generation. More information, more immediately and richer formates on more devides and to many hundreds of millions more people exist than ever before. There is an increasing need for new systems that help us understand information, improve communication and allow us to create meaningful change. The online news is in Beta.

Based on the understanding of our current environment and users, the new For You page is designed to be more personalized, more structured, more engaging and more immersive.




↳ Bing News Follow


Follow is a new feature for Bing News Vertical. Users can follow their interested topics when they are searching on SEARCH page, or browsing on FOR YOU and TOPIC VIEW page.




︎ The Challenge


01 Find a solution that offer consistent and unifying experience to users for different devices (desktop + mobile) and different pages including search (Search + Trusted News) and browse (Topic View + For You)
02 Design under the current Bing news' grid system.
03 Design under constraints : limited image resolution, legal requirements, development limitation.




︎ The Design Solution: One Unified Follow Experience

The ultimate design solution is to provide users one unifited follow experience for both desktop and mobile version.

Desktop and Mobile specs




Browse




Search


↳ The iteration process

In the design process, the possibilities of visual elements, position of follow, user flow and user experience are fully explored and iterated. In addition to the ultimate design solution, three other options are also offered for Follow.




︎ Other Option 02

Two Follow Experiences : A fixed position follow/share floating chevron on the left topic page, which allows users to take action whenever they wish. A promotional follow card based on your interest on FOR YOU page.




PRO:
Follow current topic vs follow a recommended category are significantly different. The floating tab below the page allows users to follow the topic whenever they wish without scrolling all the way back.

CON:
The floating does not communicate well on the page, it doesn't work well on mobile. It would also be challenging if more actions are available in the future.





Desktop and Mobile specs




Browse




Search


︎ Other Option 03

Two Follow Experiences : A follow button right to the category bar, which allow users to take action whenever then wish. A promotional follow card based on your interests is recommended on FOR YOU page.




PRO:
Follow current topic vs follow a recommended category are significantly different. The follow tab allows users to follow the topic whenever they wish without scrolling all the way back.

CON:
The tab is very confusing, it does not communicate well on what exactly is the user going to follow. It limited the ability to show more categories. It doesn't work well on mobile. It would also be challenging if more actions are available in the future.




Desktop and Mobile specs




Browse




Search


︎ Other Option 04

Two Follow Experiences : A star icon is on the favicon of the trending topic which the user is viewing. Users can also hover on other trending topics and follow. A promotional follow card based on your interests is recommended on FOR YOU page.


Desktop and Mobile specs




Browse




Search


︎ Other explorations